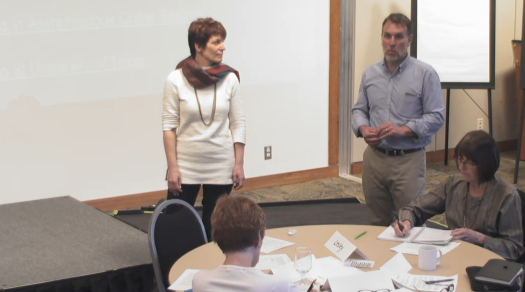 A TeamsWork presentation and discussion was delivered on a specific Team-Based Learning (TBL) approach featured at the TBL Institute in December at Vancouver Island University. Several RRU faculty and staff participated and, after an opportunity to apply what they learned, they were ready to share examples and talk about pros/cons, successes/challenges of TBL in this April 5 session at the Centre for Dialogue and via Livestream.
Featured guest speakers
Moira McDonald (School of Tourism and Hospitality Management)
Eva Malisius (School of Humanitarian Studies)
Michael Pardy (Associate Faculty)
Chris Miles (CTET Instructional Designer)
Trish Dyck (Team Coach)
The Institute focused on The Michaelsen-Knight-Fink Model of Team-Based Learning that is in use at many institutions of higher learning on several continents, with measurement data consistently showing high gains in student achievement and low rates of attrition. Developed at the University of Oklahoma Business School, TBL has demonstrated success in many disciplines, with any content; with beginning students as well as advanced students; in large classes as well as small classes.
Learn more about Team Based Learning:
Event starts at 15:40